Shopping Cart
Your Cart is Empty
There was an error with PayPal
Click here to try again
Thank you for your business!
You should be receiving an order confirmation from Paypal shortly.
Exit Shopping Cart
Peachy's Health Smart Blog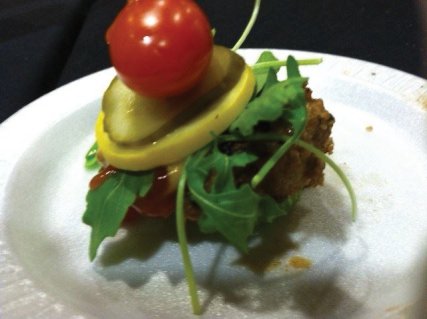 What a fun time tonight at Meyerson JCC, making these turkey sliders!
The YP's (Young Professionals) had a fill of these sliders made with onions, herbs, olive oil and oats. Yes! Rolled oats and oat bran, both!
Not only was it low cal (we serve them on zucchini slices as the "bun"), it's packed with fiber.
Uh-huh, no bun needed. The oatmeal gives us the good carbs.
It's in there!
Yum!!
Of course, served with all the condiments and arugula or spinach, sliced onions and grape tomatoes makes it complete.
Health Smart TurkeySliders
1 lb ground turkey
½ cup oat bran & 1/2 cup oat meal
1 onion, chopped
1 cup mushrooms, chopped
3 cloves garlic, chopped
½ cup parsley, chopped
1 tbsp Italian seasoning mix
1 tbsp olive oil
1 egg
1 tbsp Worcestershire sauce
Ground mixed pepper
Combine all ingredients in a large bowl.
Shape into 2 inch ball, flatten.  
Bake in 350 degree oven for 20-25 minutes or until brown, or cook on hot grill for 5 minutes on each side.
Makes approximately 24 sliders.
Nutrition Information per serving, 2 sliders:
150 Calories, 11 g protein, 7.5 g Carbohydrates, 2 g Fiber, 6 g Fat, 55 mg Cholesterol, 204 mg Sodium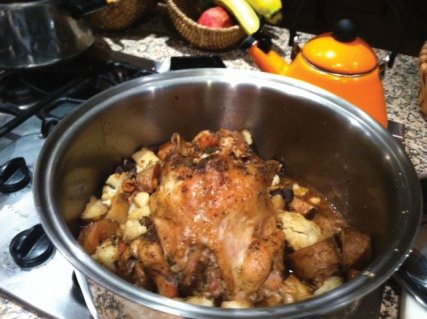 I put a whole turkey breast in my 16 quart stainless steel pot, added a whole onion, 4 carrot sliced, garlic, herbs, spices, Worcestershire sauce, put the lid on and set stove on
low heat,
left to play tennis, met girlfriend Marcie at peach house, made healthsmart turkey sliders, delivered them to another girlfriend's house, came home, added potatoes and whole cauliflower to the pot, covered again for 30 minutes, and here it is!!
Nice Sunday!!
/